Region: Northeast
Administrative
Apr 18, 2020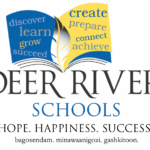 Website Deer River Schools
District Name: Independent School District 317 in Deer River, Minnesota
District Address:  101 First Ave NE; P.O. Box 307; Deer River, Minnesota 56636
District Website:  www.isd317.org
Qualifications: Hold or be eligible for licensure as a Superintendent in Minnesota.  Experience as a superintendent or in a district office setting preferred.  Demonstrates strong commitment to student achievement, technology integration, collaborative leadership, supporting students with diverse backgrounds, professional development, transparent fiscal management and working in trusting partnership with the School Board, staff and community.
District Schools:  
King Elementary
Deer River High School
Student Population: 878                     
Staff: 240
District Budget:  $18 million
Consultants Assisting the Board: Bob Ostlund (612-308-8997), Patty Phillips (651-357-0996)
District Highlights: The district lives out its mission: "Dedicated to Developing Life-Long Learners Prepared to Succeed in an Ever-Changing World" (HOPE. HAPPINESS. SUCCESS. bagosendam. minawaanigozi. gashkitoon.)
Encouraging and dedicated staff focused on continuous academic improvement, student growth and achievement with King Elementary highlighted on the Star Tribune's list of schools "beating the odds"
An inspiring environment focused on learning for all; the first district in northern Minnesota to embed professional development in the work week of teachers
Transformation of Indian Education resulting in improved achievement, increased enrollment and an American Indian graduation rate touted by the Commissioner of Education and Minnesota Public Radio
Innovative district with state-of-the-art technology; and the first in the region to implement a student technology initiative following thoughtful research, planning, staff development, and a pilot project
Supportive parents and community
2015 passage of bond referendum for a school/community facility
Great opportunities for students with College in the Schools and strong athletics, arts and activities programs
Expanded elementary school includes ten early childhood rooms, a senior citizen center, Boys and Girls Club, STEM classroom and space for communities' needs
The only rural Minnesota Full-Service Community School model, a collaborative program that integrates 4-H, Targeted Services, Community Education, Indian Education, Scouts, and other groups to meet the academic, social, emotional and cultural needs of students
Collaborative partnerships including but not limited to Itasca Area Schools Collaborative (IASC) and Education Innovation Partners (EIP)
Communities Served:  Gateway to the Chippewa National Forest and surrounded by lakes, rivers, and many recreational attractions, Independent School District 317 covers approximately 540 square miles and is located in North Central Minnesota in Itasca County, which is geographically the third largest county in the state of Minnesota. Deer River is located between the Leech Lake Indian Reservation and northern Minnesota's Iron Range and is an area known for its natural beauty and outdoor recreation.
Bargaining Groups/Contract Expirations:
Teachers-Education Minnesota (Contract Expiration June 30, 2021)
Clerical, Paraprofessional, Custodians, Food Service-Minnesota Council 65, AFSCME, AFL-CIO, Local Union 498 (with contract expiration June 30, 2020)
Search Calendar:
Application Deadline: April 18, 2020
Candidate slate recommended to the Board: April 24, 2020
First round interviews: April 25, 2020
Second round interviews: April 27, 28, and *29 (*if needed)
Projected superintendent contract action by Board: May 11, 2020
Superintendent start date: July 1, 2020
Compensation Package Offered: Regionally Competitive
APPLICATION PROCESS:

*Apply through School Exec Connect's website http://www.schoolexecconnect.com/available-positions/
*You will be asked to complete the online application and submit through the School Exec Connect's website a cover letter, resume, copies of graduate transcripts, at least four reference letters, and proof of certification to support your candidacy.
District Application Guidelines
Deer River uses an online application process. Applicants begin the application process by clicking the orange "district application" button below for the external link.
Please complete your application by clicking the box below:
District Application
APPLICATION PROCESS
Be sure to review the district's requirements for the application process and provide all required documents.
Some districts may require that candidates apply through an external link. If that is the case, the link will be noted in the job posting.
If the posting does not indicate an external link, apply using your MASA online candidate profile and click on the box below.
If you have not completed your candidate profile within our site, please do so by clicking here. Many districts search the profiles for promising candidates. To improve your outcome, please complete all requested information.
You will need to have a Jobsite account and be signed in to view your candidate profile.
---